Orem
Rain Gutters Utah
---
Residential and Commercial Rain Gutters
---
OREM SEAMLESS GUTTERS
---
Expert Seamless Gutter Installation Since 1976. City Seamless Rain Gutters is the most trusted name in the industry.
---
The Premier Orem Rain Gutter Company
---
The Best Rain Gutters Orem UT can buy.
---
Serving Orem, Provo, American Fork, Lehi, Spanish Fork, and more.
---
City Seamless Rain Gutters Orem has been in the Utah Rain Gutter installation business for decades. We specialize in installing the Seamless Gutters Orem relies on during the rainy and snowy months. We offer the best residential and commercial rain gutter installation Utah can get, as well as the type of rain gutter repair Orem Utah deserves. Trust us, if you're in the market for Orem gutter cleaning, or gutter repairs in Orem, then let City Seamless Rain Gutter take care of your needs. Also if you're in the market for collecting rainwater in Utah (rain water harvesting, Utah), then don't hesitate to give us a call. City Seamless is the UT Rain Gutter Contractor of choice. Find out why people are saying that City Seamless Rain Gutter Company Orem is one of the best seamless gutter companies around. Formerly Utah Seamless Gutters, City Seamless Rain Gutters is the company to trust.
City Seamless offers on time, friendly, and experienced service. Contact us today to set an appointment.
---
Schedule an Appointment
DOPL License: B-100 #10345277-5501
Address
1175 West 1420 North
Orem , UT 84057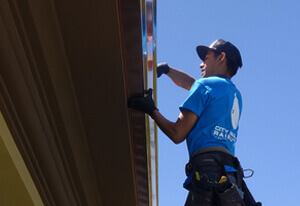 Why choose City Seamless as your Orem gutter contractor?
"I had an estimate from Brad who was very professional and honest. A small job on the back of the house and back porch, I had wanted a run of gutter on the side that did not need it as Brad pointed out. He was honest and said it was not necessary and did not want me to pay for something that was not needed. Alex installed the gutters in a short amount o... Read Full Review
Bob G via Yelp, Salt Lake City UT
Ready to get started?
Submit the form below and expect a call within a few minutes.
---
Mention our website to get 15% off!